Key to a successful project is a thorough understanding of the importance of good design and Bould Consulting Limited are experts in cost, risk and value management, reviewing modern methods of construction and other sustainability initiatives that will improve quality, reduce programme and minimize risk.
Our quantity surveying services and cost management services rely on our extensive knowledge of construction costs in the diverse Caribbean market place over the past 50 years. We provide cost planning and modelling to analyse alternative design options, preparation and evaluation of tender and contract documents, reporting on contractors' bids and negotiation of contracts.
Following contract placement Bould Consulting Limited provides interim progress payments, timely financial statements and settlement of the final costs.
Our comprehensive services also include feasibility and market studies, risk analysis and management, value-engineering and life cycle costing.
Our strength is being involved at an early stage of the process where we are able to best advise our Clients and provide added value throughout each stage.
See below for table of typical AIA / RIBA plan of works
Plan Of Work
AIA
0 - Briefing
1 - preparation
2 - concept design
3 - generic design
4 - building permission task /
5 - technical design
6 - preparation for construction /
7 - construction
8 - in use /
9 - warranty period during use
RIBA
0 - strategic definition
1 - preparation
2 - concept design
3 - developed design
4 - technical design
5 - construction
6 - handover and close out
7 - in use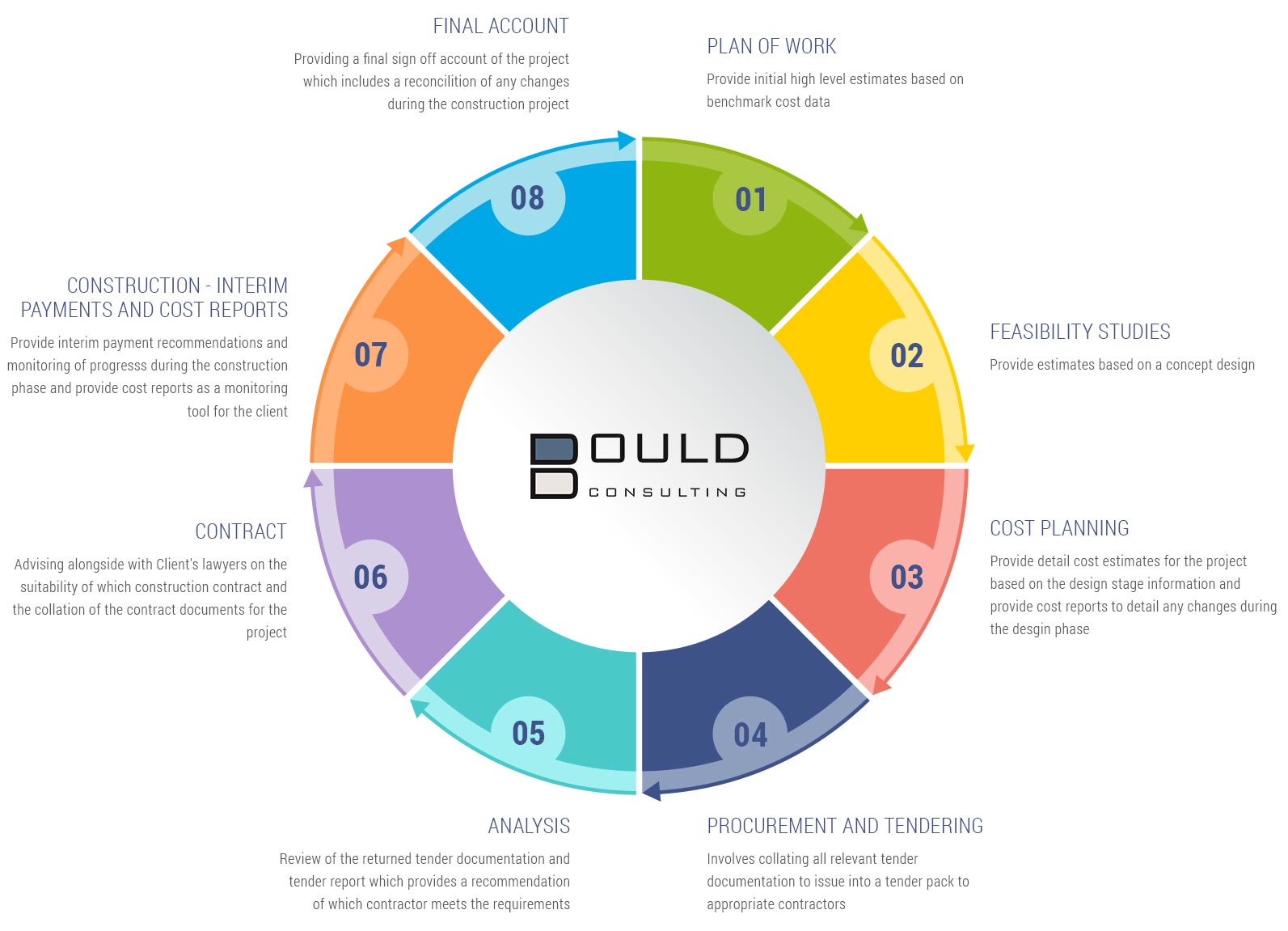 Procurement Advice
An important process of getting a construction project or development started is the correct choice of procurement route, i.e. the best way to buy the construction of a project, whether it is through traditional, design and build (D&B), management contracting, construction management, single stage, two stage etc. Bould Consulting Limited experience can help advise Clients on the most appropriate method best suited for the Project.
Contract Documentation
With an upward trend within the construction industry of increased claims and litigation it is essential for Client's to have the correct contract in place for their Projects. Bould Consulting Limited are able to advise on which contract is best suited to the Project which reflects the Client's particular amount of risk exposure, whilst apportioning the risk equally between the Client and Contractor to ensure the Client is contractually protected.
Bould Consulting Limited partner CCAS also specialises in Construction Claims is able to provide sound advice when reviewing or amending contract clauses to standard forms and bespoke contracts.
Bould Consulting Limited are able to provide contract advice through to preparation of contract documents for any size project.
Risk Analysis and Risk Management
Any Development project carries risk and at Bould Consulting Limited we understand the different types of risk that can impact a project from inception all the way through to completion.
Bould Consulting Limited vast experience has allowed our team to advise on project team strategies to identify, mitigate and manage specific project risks. Not all risks are avoidable, but with Bould Consulting Limited we are able to provide advice which best places that risk to the correct party who can manage it, whether that it is through the procurement method, or through the contract documentation.
Value Engineering
Value engineering is an organized approach to look at the function of a building and the materials specified and providing alternatives which do not affect the functionality, quality, performance or reliability but at lower cost point. Bould Consulting Limited local market knowledge are able to assist in value engineering exercises to a project or development to ensure the Client obtains value for money.
Due Diligence
See "Advisory"